Discover Your Aura.
Effortless, Everyday Uniform.
Our Story
Founded by Perrie Edwards, DISORA is driven to inspire women to express themselves freely to feel good in what they wear by celebrating their individuality through staple wardrobe essentials. We believe that everyone deserves to feel confident and comfortable in their body, especially in DISORA. Perrie's vision for the brand is centred around empowering women to embrace their uniqueness to feel confident and happy inthemselves. Standing for "Discover Your Aura", Perrie wanted to create a brand that represented all women while being effortlessly stylish and accessible.

DISORA is centred around self-confidence, body positivity, and effortless, everyday wear. Inspiring women to express their unique style and personality with ease and comfort.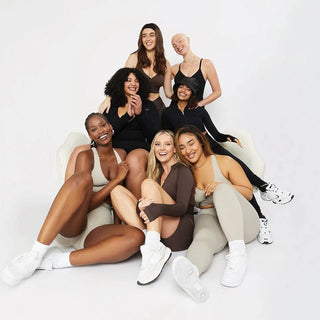 INCLUSIVITY
COMMUNITY
PRODUCT
SUSTAINABILITY
Culture
Our mission is to inspire women to express their aura by creating high-quality activewear and staple wardrobe essentials accessible to everybody. Our vision is to be the leading lifestyle brand that sets the standard for accessibility and inclusivity in the fashion industry.  By doing so we aim to create a more confident and self-assured community that celebrates diversity and embraces all bodies.